TeresaCollections
Stylish, sophisticated men and women's fashion needs in one location. Collection of unique and branded clothes ad wardrobe for every occasion . Men'x tuxedo suits and business suits. Women's formal gowns, dress, heels and luxury bags. Selections and styles for all shapes and sizes. Custom handmade elegant and classy beaded jewelry. Vintage and quality imported jewelry.
"Style is a way to say who you are without having to speak." —Rachel Zoe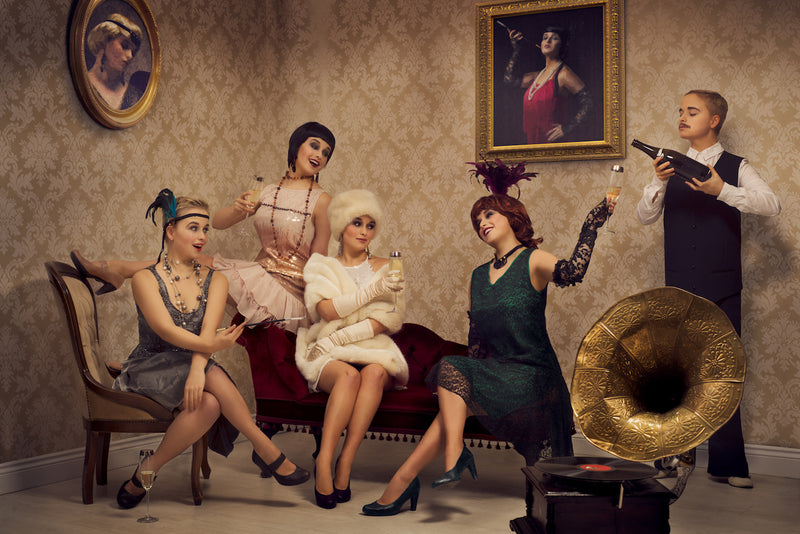 Genuine Leather Shoulder Bags
Genuine leather Shoulder bags have always been a great attraction for every woman. And if it is a genuine leather shoulder bag, it becomes ladies' first choice. Some people think having a shoulder bag with you is a burden. A shoulder bag does not mean having a full suitcase carrying it with you. In this so advanced and modern life, every woman wishes to look more elegant and versatile. Modernity has changed fashion trends. If you carry a classic shoulder bag, it will not only make you dominant among people, but it will also show that you are a trendsetter.
The option of carrying shoulder bags never ends. Everyone has different tastes and modes of dressing. A leather shoulder bag has always had great desirability. Most in-demand shoulder bags are those which are more nicely and neatly produced.
It becomes a statement of your personality if you carry a stylish and modish shoulder bag. As everyone knows, carrying a shoulder bag is always not so comfortable. So, choose a bag that will give you a soothing feeling. But keep in mind comfort is essential, as does style.
For having different seasons, women love to have different leather bags collection. The special event requires a unique design and style bag. Most modish leather bags enhance your personality vibes. You look more confident and ruling when you have something appealing, like a genuine leather shoulder bag.
Women bags
A purse or bag can be used in a variety of ways. It transports pens, notebooks, wallets, and cell phones. It can hold just about anything the human mind can conjure up for a handbag. The ability to brag about new designer handbags is a bonus to all of this. Many women are impressed by the thought that other women's eyes are constantly fixed on them because of that particular thing they carry under their shoulders.
There is a massive variety of designs and styles of bags for women. Different styles of bags are in demand by women to give them a different fashionable or professional look. These bags which you carry show your personality and fashion trends.
Most in-demand One Shoulder bags
The one-shoulder genuine leather shoulder bag is one of the most in-demand bags. The easy-to-carry bags are available in different stylish designs.
Hands-free crossbody bags
Crossbody leather bags are the best choice if you want to give a classic look. Use this so the most comfortable hands-free crossbody bags feel at ease while using your hand with your shoulder bag.
You will Love having Backpack bags.
Nowadays, most people use backpack bags. People of different ages use backpack bags in spite of their gender. These bags are mostly used to carry things with them. Backpack bags are the most stylish and efficient to carry. These genuine leather-made bags are used both professionally and casually according to your wish and desire.
Top handles carry bags.
The most stunning bag is the top handles carry bag. This type of bag is very stylish and uplifts your personality. The most in-use bag is the top handles bag. Working ladies mostly use this bag to have a professional look.
Tote bags for her
This tote leather bag gives a trendy look to you. Carrying this tote leather bag is the first choice of modern ladies. The current era is the era of looking most attractive and gaining the attention of people around you. You can grab others' attention by carrying this so stylish leather tote bag.
Most Trendy Hobo bags
Carrying a hobo bag desire never ends. Every lady wishes to carry these so stylish, so admirable, and the most trendy hobo bags. Give your personality a modish look with this genuine leather bag.
The fashionable clutch bags
Clutch bags always remain a part of fashion on every occasion. Brides love to carry this clutch with them. In any event, women love to have a clutch with them to look more modish. And if these fashionable clutches are made of genuine leather, the demand and wish increase at large.
Pouch-shaped leather bags
Most women love to carry a pouch-shaped bag. These so modish bags are also known as basket bags. These are the bags that give you a different and unique look. If this is made from genuine leather, then it's a blessing to have it.
Top Flap bags
Top flap bags give an ethnic look to your personality. If you carry a leather flap bag, it will not only give you a modern look but even enhances your style. It boosts their personalities.
Genuine leather laptop bags
Genuine leather laptop bags are also most in demand now. Not only professionals but most people also love to keep their laptops with them. The question is in which bag they should keep their laptop with them. Leather bags are mainly used for this purpose. If you keep your laptops in pure genuine leather bags, it will give your personality a more professional and executive look.
Different shoulder bags have many pockets. So, they give you a chance to keep your things organized way. The available space in the bags is enough to carry your most essential things with you. You need not worry while going a far distance as you can carry your favorite and essential things with you.
In short
Nothing says more about fashion taste and refinement than a well-chosen, marvelously accessorizing, and, why not, glitzy designer handbag. However, whether glamorous or not, such an accessory will most likely reveal a lot about a woman's self-consciousness about her appearance. In other words, a well-chosen accessory declares a woman's good taste in current fashion.
The above features are much more appealing for you to have your own genuine leather bag now. These bags are not only a comfort for you but also a style statement for you.
To summarize, women adore handbags and genuinely love them, even more when they are designer items. Women rarely throw away their handbags, preferring to buy new ones from which to choose.
Full-length jumpsuit
The full-length jumpsuit is one outfit composed of a blouse or shirt and attached trousers or shorts. The jumpsuit was a sports-based dress. Skydivers, parachuters, and car racers use this outfit when they jump from a height. Then over time, this dress style started to be used for women. Soon this outfit style got huge admiration and became the first choice for women.
A full-length jumpsuit is a formal dress for women. It gives you a classy look. You can easily wear it with heels, a black tuxedo blazer, gold accessories, and a dainty handbag because it's more formal in style. To match the style of the outfit, you can wear your hair in a fancy bun.
Keep a few things in mind while wearing a jumpsuit: how to carry this dress. Wearing a jumpsuit could be awkward if you do not keep these things in your mind.
Choose the right color dress
Jumpsuits can be challenging as they can make you look clumsy or make you appear shorter or wider than you are. Choosing the right color for you is a challenge. There's a reason why black and white jumpsuits are so popular. They are more comfortable to wear, and you don't have to worry about looking like a trendy fool in a crazy printed jumpsuit. You'll always look fashionable and elegant in a black or white jumpsuit.
Wear the right size outfit
Investing in a jumpsuit that fits your body ideally is essential for appearing stylish and classy together. Always wear a jumpsuit that is neither too tight nor too loose.
If somehow you wear a jumpsuit that is too narrow, you may start giving off the Wonder woman vibe and feel uneasy. If you wear a too big jumpsuit, you will lose your figure, and the jumpsuit will overpower your body.
Expound your Waistline
I must highlight the importance of not losing your figure. Many jumpsuits include a cloth belt the same color as the jumpsuit, or you can add your own belt to define your waist. Knotting your jumpsuit at the waist adds a feminine side to the look and gives you a wavy appearance.
Pair up Blazer with Jumpsuit
When wearing a jumpsuit for the first time, adding a jacket will make you feel more at ease than doing it without. To make the jumpsuit more understated, it breaks up the style and adds a layer. Choose a blazer or jacket that complements the jumpsuit and fits the event while making your choice. This look would be appropriate for a formal evening dinner, cocktail party, or a night out for upscale drinks with friends. Choose a jacket that dresses up your jumpsuit or makes it more casual, depending on where you plan to wear it.
Right shoes with a jumpsuit to look more stylish
Always choose heels when deciding what footwear to pair with a jumpsuit! Only if it's a pretty laid-back beach jumpsuit. It adheres to the fashion norm of wearing heels since you don't want to look short or unattractive. By keeping the bottom of the jumpsuit from bunching up, you can create the appearance of being long and lean. The bottom half of this wide-leg jumpsuit would appear unprofessional if I were to wear it with sandals or flats. I would appear shorter and as if I were wearing an ill-fitting jumpsuit.
Match right jewelry with a jumpsuit
Despite being a fashion statement, jumpsuits may come across as too essential without vibrant accessories. Particularly block color variations tend to lose their wow-factor without the additional ensemble depth that wearables, like jewelry, provide. By adding jewelry, you can draw attention to another part of your costume that is not only the jumpsuit. It creates an intriguing detail that will catch people's attention in your immediate vicinity. Pick accessories that will catch attention, such as a statement necklace or a pair of sizable pendant earrings. A flash of color can offer some fun to informal fashions, while gold usually looks fantastic with formal jumpsuit designs.
Jump Suit a dress for any event
Jumpsuit designs are the ideal attire for any event. Jumpsuits are your go-to outfits when you're getting ready to go to a party, hang out with friends, or attend an evening event. Broad leg Jumpsuits are a stylish option for formal occasions. Jumpsuits with bold prints are fashionable and appropriate for gatherings and parties.
Even the jumpsuit can be switched into an evening gown with the appropriate fabric and finish. Jumpsuits can be decorated and styled according to your preferences and the occasion, as well as the time of day.
A spaghetti-strap romper 
Enjoy wearing a spaghetti strap romper. It is the most relaxing and comfortable dress. While suiting your jumpsuit, make sure that you are having fun with this dress. Try to impress others with your outfit and not dress just for the sake of going to the workplace.
In order to accomplish this, be happy to experience the process of choosing your ideal jumpsuit. Try to make it distinctive by adding your own touches and adhering to the company-established norms and regulations for business attire.
Sleeveless jumpsuit 
Jumpsuits in different styles are available for you to add beauty to your personality. Like when you select a sleeveless jumpsuit, it will not only give a modish look but a sexy look also. You can wear this outfit at some special events to be dominant among people.
Open Shoulder jumpsuit
One another style to cash your dressing sense, you can wear an open-shoulder jumpsuit. This style of dress will give a more feminine look than any other styling of this dress.
Short Note
You dress up with a full-length jumpsuit, a sleeveless or an open-shoulder dress, and it will totally change your look. You can amaze people with your outfit, which looks so stunning and outclass. Choose such a dress that is comfortable to wear and has a mod look as well. So, a Jumpsuit is a right choice for this reason.
Printed T-Shirts for Women
If all fashion is about communication, a printed T-shirt is your wardrobe's stylish landmark, a device to tell the world your personal preferences, flavors, and emotions without giving your opinion. This makes them a winner on two fronts: a way to make a bold statement and an effortless style solution when you don't have time to think about your outfit in the morning.
Printed t-shirts have always been the priority of women to remain more comfortable. She chooses that dress which gives her a relaxing, soothing feeling. Women prefer to wear that dress. Different designs in such refreshing colors are available to have a classic look.
Women are advised to wear dresses to promote a sense of deep respect, even if other clothing is perfectly humble, classy, or professional. Dresses are typically worn only on special occasions. By impacting our mindsets, suitable, simple outfits demonstrate respect and invite Enthusiasm.
How can a person go about selecting the best T-shirt? It may appear to be a simple question, but figuring out one that checks all the boxes—from fit to comfort—can be difficult. No, one wants to wear an ill-fitted t-shirt. So, choose the right one for you.
The modest T-shirt is a keystone of everyone's collection, regardless of who your fashion icon is. The best women's tee shirts can go from casual to enhanced in a split second, whether you swap out baggy jeans for a skirt or update minimalist jewelry with a trendy statement piece. And if you're looking to upgrade your summer wardrobe, choose the best T-shirts for you that will go perfectly with your summer essentials.
Some most used t-shirts for women's collections are here for you to choose your favorite one.
Short sleeve t-shirt
If you wear a short sleeve t-shirt with jeans in the summer season, it will not only give you a cool look but a modish look as well. This easy-to-wear dress is the most desired combination of dresses. This short sleeve t-shirt with a round neck in white or any other excellent color is worn the most in the world.
Short sleeve t-shirts in different cool and funky colors are demanded mainly by those who love to look dominant and different in public. You can wear a plain white t-shirt or a printed shirt according to your mood and feeling.
Sleeveless t-shirt for women
Some women love to wear a sleeveless t-shirt. This style of t-shirt is mostly demanded in hot weather. Sleeveless t-shirts are available in different cool colors. Different beautiful designs are also made on these t-shirts. These sleeveless shirts also give a modish look. You can style up with this type of t-shirt on any occasion or casually to grab attention.
Short sleeve V neck t-shirt
If you select a V-neck short sleeve t-shirt, you will feel that your neckline is more visible. These v-neck-shaped shirts give you a classic look. This type of shirt's size is more extended than ordinary t-shirts. It hits your waist. So, to give a different and unique look, you can select this V-neck shirt. This shirt can be used in plain color or with different designs. V-neck-shaped shirts are available in both short sleeves and sleeveless.
If you are moving out of your home with your pet dog, you can wear this comfortable tee. The best match is to wear a white or black or any color tee with blue jeans. You can wear them according to your taste.
Drop shoulder tee
If you can give a rock look, you can select a drop shoulder shirt with cuffed short sleeves. This is a fabulous style shirt. The drop shoulder styles grab the most attention of people around you. The cuffed sleeves are classy to wear. If you wear this t-shirt with your jeans, you will look like a rock star, a model.
Tie-Dye t-shirt
Designs have made different designs for t-shirts. Sometimes we get tired of these ordinary designs wearing again and again. But if you talk about tie-dye design. This design is a design that remains in fashion every season. This unique tie-dye chic design never goes old. You can wear this tie-dye shirt with the same color jean to give a soothing look. It would be the best trend if you tried this all-time-in-trend tee.
T-shirt with skirt
You have heard that t-shirt with a skirt is becoming your hot season outfit. This summer dress gives you a sassy and sweet and casual, and elegant look at the same time. While some may be hesitant to wear the shorter bottom on many occasions, a classic T-shirt changes the vibe and makes it appropriate for everything from the office to after-hours drinks, depending on how you style it. As a result, when paired with a vintage-inspired graphic tee or Breton stripe, a more dressed-up mini might just become that off-duty essential. We're hiking up our hemlines and wearing minis almost exclusively this summer.
After all, your summer tan will not last forever! Find out how we are wearing our miniskirts and T-shirts this summer and why it's practically become our uniform. Allow these looks to inspire your seasonal style, from the boardroom to the bar.
T-shirt and shorts sets
Since shorts are informal, so should the top. Never pair shorts with a long-sleeved, collared shirt with buttons. Even with the sleeves folded up, the fashion is too eclectic. Grab a button-up shirt to wear on top. Keep cool by selecting a light fabric; a good place to start is linen. The likelihood of sweat patches will be reduced by choosing a looser style that will keep the air flowing.
The High-Low Formula
Nothing combines high and low fashion more successfully than a sophisticated little skirt and an old-school graphic tee. We adore the contrast between a vintage skirt appropriate for a midnight affair and a grungier top you might have snatched from your partner's T-shirt closet. With the appropriate customized accessories, you may put together an outfit that you can wear all summer long.
Let customers speak for us